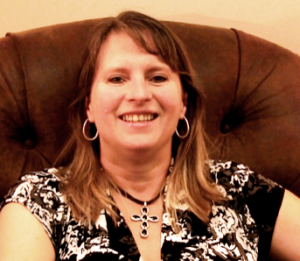 Chantelle Botel-Hare, homeschool mom of three energetic boys, lives in Upstate New York with her husband who runs a small, privately owned business. A season of transition and hunger to walk in her destiny brought her to Tina Southgate's What's Next? Workshop this year. Chantelle came asking God, "What do I do next and what are you calling me to do in my life right now?" The breakthrough she experienced during this workshop caused Chantelle to find the confidence to say, "Yes, I am ready! to step into my dreams!" During this workshop, Chantelle was activated to walk through the doors of opportunity which God miraculously opened just after the workshop, propelling her into an new and exciting part of her purpose.
At the beginning of the workshop Chantelle shares, " I was so unsure of myself and what I was going to do next. Tina helped to bring clarity. I realized it was actually a simple thing!" For over seven years, Chantelle had carried a vision to be an abstinence speaker and counselor, but had never known how to walk this out. God placed this desire in her heart years ago. Over the years, Chantelle's desire to bring encouragement and guidance to young men and women in the area of sexual purity by public speaking, grew. Before attending the What's Next? Workshop, she felt God stirring this passion in her heart again.
A big breakthrough moment happened during a workshop exercise called crossing the chicken line. This session activates participants to overcome past obstacles and fears that have prevented them from moving forward in their identity and destiny. Chantelle explains;  "my chicken line was to actually step into my destiny of what God was calling me to do. He was calling me to be an abstinence speaker, speaking to high school students, youth groups and even colleges. I've had a vision a long time ago that I would be speaking to an auditorium with bleachers packed with both men and women!" During Tina's workshop, God ignited a new courage and motivation in Chantelle to move forward into this life vision and leave fear and uncertainty behind.
The very next weekend after the What's Next? Workshop, Chantelle was due to attend a local pregnancy center fundraising banquet. She had set this up with the intention of simply inquiring if she could volunteer her time. With a newly acquired confidence, having attending the Destiny Workshop, Chantelle, approached the pregnancy center leaders during
the fundraising banquet. Chantelle recounts, "I told them I felt the Lord was really calling me to the area of abstinence speaking and counseling." Their response was instant, right there they said, "We have a need right now and have been waiting for you!"
After that night, Chantelle also started being part of a Bible study with young women that meets at the pregnancy center. This September (just 5 months after the workshop), she will begin the process of becoming an abstinence speaker and counselor. She looks forward to speaking in public schools and churches in the area and sharing her life message with young adults.
Chantelle is excited to start walking in her dreams this fall/autumn and will use life coaching as she counsels young women. She has also discovered how to use life coaching in her daily life. The What's Next? Workshop has really given me the desire to coach other people and learn how to coach myself in different areas of my life as I help my husband with his business, my kids with their school or just myself with scheduling!"
Chantelle coaches herself to map out her weekly goals and to know where she is going next. Chantelle said; "as a whole, life coaching has really impacted my life in many areas." After attending the What Next? workshop, Chantelle has continued to have one-on-one life coaching sessions with a Destiny Coach as she prepares to work with the local Christian pregnancy center this year. Coaching has raised her confidence in what God has placed on her heart and given her courage and clarity to walk those dreams out.
"Whether you are a mom, dad, student or anyone else, the What's Next? Workshop can help you see what the Lord has put in your heart and help you get unstuck in life." Chantelle says; I have discovered how to trust in myself and most importantly, how to trust in God with your dreams. What He puts on your heart is real and shouldn't be something you're afraid to walk into." Chantelle is excited, and anticipative considering the future to see what God has in store in this upcoming season as she begins the new journey of walking in her destiny and ministering to young men and women in Upstate New York.