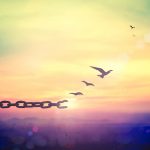 Ever wondered; has God forgotten His word to me?
Is He not interested in my dream or vision?
Where is my breakthrough?
When will I be released to operate into what I am called to?
Sometimes we feel frustrated that things we have waited too long for already, are no closer!
I can relate to all of these feelings!
But, I've learnt we don't need to stay discouraged long. There are some simple antidotes that work well to take us to a place of great faith and hope.
First, let's be real; you cannot change the world if you're feeling discouraged! Trying to carry on from this place is like walking through thick mud! So, stop and address your discouragement before trying to carry on. It really is possible to think yourself happy again.
We can self-coach our way out of discouraging thoughts and motivate ourselves to complete our incredible assignments.
Here are some tips from what has worked for me!
Step 1 – Change your focus to what you really need
God has everything we need so something that works great for me is to take time out to really examine my heart as to what I need. Then, simply ask him for it, and continue to ask him for it, until he gives it. For example, it may be that you simply need joy or faith. Maybe you need to know you are loved or you belong. You may need physical or mental strength. Whatever your heart needs to be encouraged, ask for it. (Look at the word 'encouraged', it means filled with courage). Joy is something I ask the Lord for many times when I am feeling discouraged and weary. The Bible says: The joy of the Lord is our strength(Nehemiah 8:9). Joy sure helps. I cannot survive without it. Many times, I have had to consistently ask for it every day, sometimes for weeks, then it breaks through, a gift from God and all is well, I can carry on.
Step 2 – Learn from the past mistakes quickly
Don't waste too much time, regretting, or beating yourself up, as to what you have done badly or neglected to do. Many times, I hear people say; 'but I haven't done what I was supposed to or 'I regret not doing…..' or 'I should have been more …..'. These thoughts need to come to an endquickly. Get whatever it is off your chest, ask God to show you what is to be learned from it, forgive yourself then move on! Forget it, don't waste time allowing yourself to think of it more.
Devoting your thinking to condemning yourself over and over again is not healthy for your brain. It is toxic thinking and it causes the wrong type of stress. It also robs you of your belief to carry on.
Step 3 – Celebrate who you are
Once you have got your regrets and condemnations off your chest, start celebrating who you are. If you are not used to this, get used to it!
What do you love about you? What are you proud of that you have achieved in your life? (Maybe having children, being a great friend, being a great daughter or son?) What hardships have you pushed through to be proud of? When have you worked hard and achieved something great? Ask God what he loves about you. Expect him to show you. He loves boasting about you all around heaven, telling you what He loves about you. (Check out Psalm 139: 17-18). You are His sheer delight!
Ask your friends what they love about you. You are lovable and incredible, don't let your thinking rob you of this truth. Make declarations about who you really are. The Bible is full of teaching telling you who you are. (eg, you are a masterpiece, royal, a friend of God, a son/daughter to share in His great inheritance)
Step 4 – Practice blue sky thinking for the short-termfuture
Forget what has happened and pretend you have a brand-new start. Begin to think up what would be the ideal circumstances that could happen in the next week or month! Then what would be the ideal to happen this year? If you are not married and want to be; imagine you meet your spouse and get married, what happens next? If you are in a job you can't stand, imagine you find the job of your dreams and start it in 12 months. What would that job be? What would it look like? If you are living somewhere you don't want to; imagine the ideal next circumstance. I'm talking about in detail visualisation here, it works on so many levels to take you forward quickly!
Step 5 – Turn your ideals into an action plan
Anything can be changed with Gods help, your determination and in the right season. You may need some help from a friend or a coach, to help you turn your ideas into reality with an action plan. Look at your ideal scenarios and ask yourself, what are 3 actions that I can take this week towards this desired outcome? Take it further by planning goals for the next month, the month after that and the 3rdmonth.
Examine what you have written. If you followed through on these actions how far would it take you to what you truly want? Far enough? If not, stretch yourself, what steps could I take that would be more radical, to shift me to where I want to be? What help do I need? What encouragement do I need along the way? What accountability can I put in place? The Bible says 'a people without vision perish'. Your action plan is a dream turned into a vision!
Any positive change, brings hope. It lifts you out of discouragement! Don't be robbed of the fullness of life that God has for you.
By Tina Southgate, Founder, Destiny Coaching Ministries.