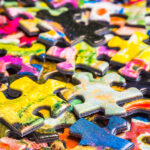 John 10:10
The thief comes only to steal and kill and destroy; I have come that they may have life, and have it to the full.
Wow! Jesus has come to give us a full life!
A big part of this is us knowing and living in the fullness of our callings.
The 'thief' or 'robber' mentioned in this verse steals this away from us. One way that this happens is in the form of religious mindsets that are unhealthy for us and specifically hold us back from living in the fullness of our callings. These mindsets may seem 'normal' or even 'Godly', but they rob us from our God given freedom to thrive!
Jesus fought religious mindsets when He came to earth and encountered the pharisees. Some customs had been developed that robbed people of their freedoms. Intricate laws and rules had been created unnecessarily which took away people's freedom. God never meant for these to be put on us.
Unfortunately, we can have religious mindsets today that inadvertently hold us back.
Religious mindsets are often a problem, we face when coaching people to step into their destiny. People somehow come under rules and regulations that are not Biblical, and which take away their permission to life their Christian lives to the full. Jesus came and died on the cross to give us back our freedom and our abundant lives.
Here are some common unhealthy religious mindsets that can get in our way:
Christian Coaching
MINDSET 1 – Identity – Having a warped view of who you are
For many Christians, instead of thinking of themselves as a 'masterpiece' (Eph 2:10), they think of themselves as a 'sinner', or someone not worthy, or someone who is weak and not able. None of this is true!
We know that by the work of the cross, our identity is that we are now Saints, not sinners.  Thinking of ourselves of anything less takes away from the work that Jesus has done.
Being a sinner is not your identity anymore!
You are free and sanctified, by grace, by what Jesus did on cross. If you think you are a sinner, you will to some degree be tied to or drawn to this identity and to need to sin. If you think you are a saint, a child of God, a masterpiece created for great works. You will be tied to or drawn to finding a glorious calling and destiny which is worthy of who Jesus made you to be.
The reality is most of us don't feel the truth of being masterpieces and beloved children of God.
We often coach people through unhealthy mindsets they have of their identity.
So many of us think that we are weak, useless, ungodly, or that we should try harder or could do better. This is far away from the truth. Connecting to God to speak into our true glorious identity as a masterpieces, is a great way to reverse our unhealthy perspective! What kind of masterpiece are you?
The enemy is a thief. He wants to rob you of the revelation of who you really are. He did it to Jesus. 'If you are the Son of God…… why don't you……..(Matt 4:6).
Wait, what do you mean 'if'?
How is the voice of the enemy robbing you of your true identity? What are the 'if's he is speaking to you?
What does God love about His amazing creation of you, one of His exquisite masterpieces?
Christian Coaching
MINDSET 2 – Religious mindsets promote 'mystery' as a final destination
God is a big God, He is mysterious. We can never know God fully as He is so big and beyond our understanding. Yes, there is always mystery around understanding God.
But mystery is not always a good and Godly thing for all topics in our lives. It is not healthy to stay in a place of mystery in many areas of our lives. One area that it is often taught that we cannot know and understand, is the area of knowing our special, personal, and unique calling and purpose. Some pastors even teach that it is not for us to know this. Some say that this is a mystery that we never truly know.
Bible verses that are often quoted which backup this thinking and steal and rob us of pursuing greater understanding and clarity of our purpose, like:
God's ways are not our ways (paraphrased from Isaiah 58: 8-9)
God is full of mystery and too big for us to fathom (paraphrased from Psalm 145:3)
Eyes have not seen, or ear heard what God has prepared for them (paraphrased from 1 Cor 2:9)
Thinking that all God's mysteries are hidden for us to never know, that we are not to know our own purpose and other profound mysteries of God, is simply not true!
Here is scripture to backup that God indeed wants to reveal many mysteries to us:
It is the glory of God to conceal a matter; to search out a matter is the glory of kings.
(Proverbs 25:2). We are kings, as we are sons and daughters of the King, destined to rule and reign with Him. We therefore search out answers on matters!
Therefore, my brothers and sisters, make every effort to confirm your calling and election. For if you do these things, you will never stumble,  (2 Peter 1:2)
Follow the way of love and eagerly desire gifts of the Spirit, especially prophecy. (1 Cor 14:1) – 'Prophecy' is about hearing the voice of God, which all of us are told to eagerly desire, which means it is available to all of us.
 I no longer call you servants, because a servant does not know his master's business. Instead, I have called you friends, for everything that I learned from my Father I have made known to you. (John 15:15)
There are so many other verses that point to us actively pursuing clarity of our calling and confirming that God wants to speak to us about it.
The enemy wants to rob you of clarity of your calling, because the less you know of it the less likely you are to walk in it. The less likely you will be to be powerful to bring God's kingdom to earth. So don't believe that you are to live in mystery and not know things especially, that really important topic of knowing your purpose.
Christian Coaching
MINDSET 3 – I need 'permission'
For some reason we find Christians feel they need to seek permission to step into their calling. Why?
The enemy wants you to think you are controlled by forces you were never designed to be controlled by. You are meant to hear God's voice for yourself and to be obedient to that. Obviously honouring others is vital but not to the degree that you allow them to take away permission for you to step into your call.
Feeling held back because you do not have permission, or someone has said 'no', is being under a spirit of control. Control in the Bible is paired with manipulation, it is not Godly and comes only from the enemy.
Nowhere in the Bible does it say that you must have permission from a pastor or elder to step into the things that God has called you to. Which character in the Bible asked someone for permission to step into their call?
Christian Coaching
MINDSET 4 – I need 'accountability'
Many Christians feel that you can't step into calls of God without accountability. That you need to be able to answer to someone. 'Who is your accountability?' is asked often.
Why is it that when it comes to crafting your career, and choosing your college degree, and deciding whether to take a job or not, you are not asked, 'do you have accountability in place?'.
So why is this question asked with work that is related somehow to the kingdom, and God, in a more obvious, 'ministry' way? It's a strange standard that has somehow been set, especially as all our work is God's work, not just 'church work'.
I wonder what accountability structure Evan Roberts, who prayed the Welsh revival into being, had? Who was Paul the apostle accountable to? What is the Bible backing for this concept of 'accountability'?
Many people will say 'no', to the crazy idea or vision that God has given you, ……but if God has said 'yes' – that's what you need to listen to!
We must learn to go where we are celebrated not tolerated. You must go somewhere where your calling is recognised and affirmed and where you are championed into it.
Accountability is of course hugely valuable, but in a healthy way, it is more about making sure we are in close connection with others that will not be afraid to confront us when they feel we need to be confronted. We need to feel that we are not afraid to be confronted by these people. Those people do not have to be our church leaders, or some other ordained authorities. Those people need to be mature people in The Lord, that know us, celebrate us and back us in our calling. We need several of these who will hold different types of wisdom. They don't necessarily need to be local, and we don't necessarily need to see them all the time. Paul oversaw many churches and only met them in the flesh one or two times the rest was done through just a few letters.
Christian Coaching
Many people are released into a whole new level of their calling, when they realise, they no longer need to wait for permission to step into it. Unhealthy religious mindsets can hold us back, take away our permission and stunt our growth.
The truth is that Jesus has already done the work to release us into the fullness, we just need to have the faith to believe this and leap!