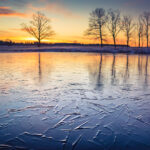 Almost every Christian I meet would say they desire to hear God personally, directly and more clearly in their lives.
Some don't but that is simply because they've been convinced that hearing God personally is rare and unlikely.
This of course is not true, everyone can hear God personally!
John 10:27 – My sheep hear my voice, and I know them, and they follow me:
One of the incredible side benefits that our coach training students gain, learning how to coach using our Co-Creative Coaching approach, is that they learn how to hear God in greater, deeper, very personal, and profound ways. They grow more significantly in their relationship with God than they expect.
You can do this too, by learning to create powerful questions to ask God, which come from your heart and spirit.
In this article you'll get some tips that you can apply to also start to hear God more personally and clearly.
In learning our coaching approach, we train our minds to focus on questions rather than answers. We learn to switch on a healthy curiosity and hold a focus. Doing this you can start to ask God and other people questions that you may not have thought of before. Powerful questions, that come from a healthy, what we call 'self managed' mindset, open incredible new levels of revelation as our spirits and our hearts get opened up to hear God in new ways.
We learn to tune into hearing His voice more clearly and gaining closer intimacy with Him.
It opens up a whole new space in our relationship with God that we haven't thought is possible!
God gets given space to reveal answers in ways, He hasn't been able to before. We learn a whole new language through which to converse with God.
Here are a few tips for you to start to invite God's voice and His revelation into your life more:
TIP 1 – Open your Questions Up
Instead of asking yes/no type of questions, open the questions up. God would love to say more to you! Asking Him open questions gives Him more room to speak to you. (Just like it does anyone else).
We are so used to asking God;
Should I marry this person or not?
Should I take this job or not?
Is it your will that I move house?
These questions simply require a 'yes' or 'no' from God. How frustrating that must be for Him! Imagine all the things He wants to convey to you. Imagine all the wisdom He has for you on your situation. Imagine the questions He wants to ask you to get you to think and mature through the your life process.
Jesus was asked over 180 questions that are documented in the New Testament. He only answered about 3. The rest He answered with a question. Jesus wants to converse with you. He wants to ask you questions as well to help develop your heart and your maturity into thinking like He does.
So think about questions that you can ask to really gain God's wisdom in your situation. Forget the one question option for Him. Sit down and come up with several questions you really want Him to show you answers for.
Then, open these questions up! Start with 'what'. So instead of asking God, 'should I take this job or not?', you can open up this question and ask, 'What do you think about this job?' or 'What is the purpose of this job in my life God?' or 'What would my future look like if I take this path?'
Open questions invite closer relationship because they give room for someone to answer in many ways and to give their opinion, their thoughts and feelings. Closed questions invite closed answers, such as a simple, 'yes' or 'no'.
TIP 2 – Connect with God as a Person
Intimacy doesn't come by having one-way conversations. And yet that is how many of us pray. We tell God about us and then ask Him for things. We don't leave space to allow God to speak to us. Imagine how hurtful it is for Him to not be heard in your relationship with Him.
By adopting a coaching approach to prayer times, or any time during your day, you can connect with God as you would with any other person. Try asking Him questions from your curiosity and to get to know Him better. For example:
What is on your mind God?
What do you think about this or that?
What would you say to in this situation?
TIP 3 – Tune into God's mood
One technique that we use that really helps many people hear from God is to imagine Him in the room with you. (This is tuning into the truth as He is actually there with you). Then imagine the expression on His face. Imagine what mood you sense He is in. We know Jesus felt emotions as the Bible tells us this. Our God is a living being, a real person, very alive. Tune into sensing His presence around you. What does it feel like? What mood is He in?
Sometimes when we help people to tune into this, they sense God is excited, maybe He is about to tell them something, or He is laughing, or He is proud of them. Whatever it is, tuning into a sense of His presence and what mood He is in, will help you then to be able to listen and hear what He has to say.
So powerful questions to do this could be;
What mood are you in God?
What are you excited/joyful/ peaceful/ happy/ sad etc about?
TIP 4 – Use your creativity
There is a Spiritual realm. You can spend time with God in different places. He can show you different things in the spirit realm. You can explore the spiritual realm through your imagination. Practice visualising going somewhere, visualise a special place maybe, somewhere God himself would like you to travel to in your mind's eye, your imagination. He may want to show you things here or talk to you.
This spiritual realm is far more real than you realise.
Heaven is nearer to us than we think. As we have been sanctified, our imaginations are a great tool to use to help us to connect with God and the things He has to show us and places He has to take us.
God often to communicates to us in pictures. Think about the 'pictures' (or the make-believe situations) Jesus portrayed in His teachings using parables. Pictures and metaphors help us to hear what God is trying to convey to us. They help us understand spiritual things.
We use metaphor a lot in our coaching process as a way of unlocking new revelation. A metaphor can be a picture. God often uses pictures to explain things to you and to speak to you. Just like He speaks to us through dreams He gives us when we are asleep. If we don't understand what the picture, the story or the metaphor is, all we need to do is to ask God, 'show me what this means Lord?', 'what are you saying to me?'.
TIP 5 – Use Scripture
We can also use powerful questions to tune into God's voice when we are reading scripture. For example, if you read this verse:
Ephesians 2:10:  For we are God's masterpiece. He has created us anew in Christ Jesus, so we can do the good things he planned for us long ago.
Wow, what an opportunity for powerful questions in this verse:
In what way am I your masterpiece God?
What are the good things you have planned for me?
How am I created anew in Jesus Christ? What are some examples of this God?
TIP 6 – Simply Ask
There are many ways we can learn to hear God. A good place to start could be simply asking Him, 'Lord what are the best ways I can practice and explore to learn to hear you more?'
Open powerful questions will tune you into God's voice more than you realise. Even if you don't hear a response straight away you will start hearing. Answers to your questions will come to you, maybe as you go about your day. Enjoy opening your heart and spirit to more intimacy with Him.