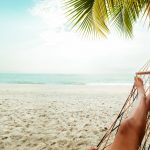 For the last 9 months, my husband and I have been actively working on bringing more balance into our lives.
This is not an easy task when you are running a business/ministry or 'binistry' as I call it!
The past 5 years of running our 'binistry' has been a huge adventure, teaching me more than I could have imagined.
In Spring, last year we desperately cried out to God; 'this is too much, show us how to bring back balance and still progress the incredible assignment you have given us!'.
The result of this prayer of our heart has been remarkable. Balance has been restored and with it so much peace and rest. We are doing much less but somehow are achieving more. Our journey since our prayer has included finding our season's 'non-negotiables'. The peace and equilibrium that has followed has reminded me how important this is and how this is a key to a healthy lifestyle of living from rest.
There are two types of non-negotiables: your lifetime non-negotiables and your seasons non-negotiables. Without knowing your lifetime non-negotiables, you can't know your current season's. We figured out our lifetime non-negotiables a while ago, but had not figured out our currents season's.
First a little about those lifetime non-negotiables. We have found it's common for people to be unclear on their non-negotiables for their life. Eg, the things they absolutely without a doubt, want to see during their lifetime. These can include life purpose, life vision, lifetime assignments, core values (how you want to achieve your assignments), and impacts you want to have on the world.
Without the long-term view of what you want your life to count for, a clear vision of an extraordinary mission that you are totally bought into, how can there be focus?  How can there be passion and pursuit? Being busy doing many things that are good and Godly doesn't mean you are fully in line with who you were created to be. Misalignment can feel like, a sense of dissatisfaction, a sense of 'not quite' being on target, sometimes feeling guilty that you want more as you have so much to be thankful for.
We can be achieving great things, but not feeling fulfilled and satisfied. We can be admired by lots of people but feel somehow there is more. Discovering what you absolutely will not negotiate, what you are absolutely sure you want to take place in your life (unless God clearly gives you a 'no'), connects you with the deepest places in your heart. This connects you with your motivation and inspiration, lighting you on fire with a passion and energy that will drive you to achieve extraordinary things. This is how you were created to live. This is how you shine.
The next level is to understand your current season's non-negotiables. When you discover your big vision, your purpose and you are completely connected to it in heart and mind, it can overwhelm you. Without understanding God's timing and His agenda for your current season, you can feel overwhelmed by responsibility,  or a sense of urgency that you are behind somehow. You can feel anxiety about whether it will happen or not. The Bible says:  My yoke is easy and my burden is light (Matthew 11:30). So, we know that if anything feels heavy it is either the wrong thing or we are approaching it in the wrong way.
In the last 9 months, we have gone through a process of figuring out well defined small steps to move forward in our vision. We have got used to setting clear priorities and postponing many things for later. We have discovered this season's non-negotiables which has given us a deep sense of peace and equilibrium. We have lost the heaviness of needing too much to happen now and have firmly stepped into trusting God. At the start of 2018 I started declaring 'I am time rich'. The results have been phenomenal. I have become more time rich than I have felt in 5 years! I ignored my fear of narrowing a plan down to a few key focusses. My fear was that I didn't want my creativity squashed to only be able to focus on a few things. Surprisingly my creativity is soaring in new ways to bring further excellence to the few things that we believe God is focussing us on.
I see so many people caught in a trap of being over busy, tired, worn out with a full schedule. The ability to enjoy spontaneous relationship has been lost. They have no energy or space to think or dream. All that they are involved in is good, wholesome and Godly, but they are on a relentless hamster wheel, not enjoying the lightness of life. I see people responding to needs around them, reacting to opportunities but with no idea of their lifetime non-negotiables, let alone their current season's. They haven't found their 'yes' so they don't know their 'no's'. Some have an incredible vison but have not activated it their life. They have not made their vision a non-negotiable. Many of us have just not given ourselves permission to know what the most important focus is for us for our lifetime and to make decisions accordingly.
Take some time to figure out your long term non-negotiables! I promise you will end up doing less and achieving more than you can imagine! What do you want your life to count for? What impact do you know you want to have on the world? What do you want to be known for? What can you not bear to see not happen in your lifetime? Once you have answered these questions, sit down prayerfully and figure out your current season and what is most important now to ensure your life's non-negotiables are met.
Destiny coaching has a coaching toolset that can help you discover your unique life purpose and the passions of your heart, essentially what you want your life to count for. We then work with you using numerous tools to help you discover your current season and what to focus on now.