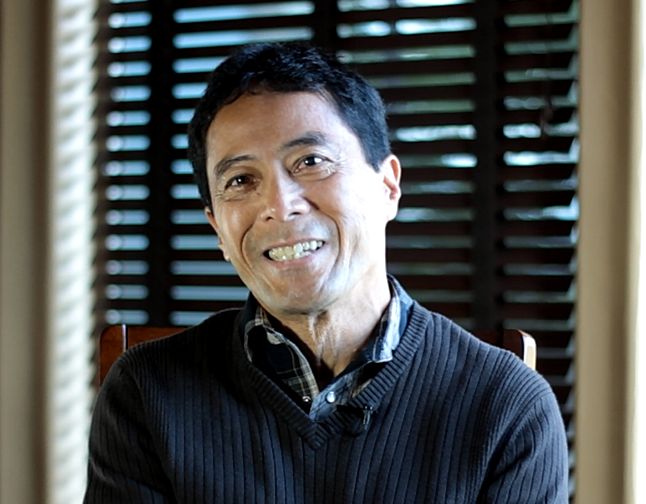 CASE STUDY – Ben Gorospe
Retirement can be a great time to look forward to more leisure time and catching up with old friends. However, retirement also comes with challenges. It's surprising how much of our identity – who and what we are here for – can be tied up in our jobs, and many people struggle to find direction and fulfillment in life outside work.
Let's take a look at a great role model of someone who is successfully making this transition, meet Ben Gorospe.  A keen surfer, Ben is a picture of health, and is energetically looking forward to the next phase of his life. Ben's story is of how he met with God in the twin transitions of retiring and moving to a new home location. A significant part of this journey was attending Tina's "What do I do next?" class which he came to "hungry to find out what God wanted me to do next."
A Destiny Coaching Workshop- a pivotal point on Ben's life journey
Emotionally, Ben came to the class feeling that he was "going through not just a transition, but also a transformation; – a new leaf being turned." Ben felt God had been doing a deep work in him as he adjusted to life after ending a successful consultancy business. By the time he attended Tina's "What do I do next?" workshop, Ben was excited by the prospect of clarifying a new vision for his life. To Ben it "…looked like what I really needed at that moment in my life."
Setting the scene – encouragement to dream big dreams
Tina's introductory sessions struck a powerful chord with Ben. "One thing I was really impressed with was that God wants us to dream. He's really for us and has a plan for us." Ben describes how Tina built on and reinforced this foundational message throughout the class.  "Being sure God is for you means you can approach life really positively. There's really no limit to how far we can go with God providing we fulfill his conditions."
New ways of seeing the world, ourselves, and our destinies
The workshop opened up significant new ways of seeing life that Ben describes as "a paradigm shift in my thinking." Ben's career had demanded expert use of technical, "left brain" thinking. Through Tina's exercises he was able to discover ways of God speaking to him in more visual and creative ways. Remembering and developing dreams (desires), visions and visualisation exercises, brought clarity to his decision-making and a deeper passion and intimacy to his prayer life. He was also able to apply his analytical skills in new ways. Reviewing prophetic words God had spoken over his life, Ben learned how to categorise these in ways which revealed what God was saying about his calling, both the 'tasks' God had for him to accomplish and who he is 'becoming' in all of this. Ben was powerfully impacted by the second idea, the 'becoming' and 'being' part of our calling.
Taking hold of destiny
It's one thing to know that God has a destiny in mind for you, but how do you find it? "In a general way" says Ben "I am more confident that I can hear God with clarity. Specifically, I have been able to identity my goals. We did this exercise where we identified our dreams and ranked which ones we felt most passionate about on a scale of 1-10. This helped me really focus on four; – becoming a certified Bethel coach, developing my interest in photography, offering fitness training to seniors who want to develop a healthier lifestyle, and using surfing for outreach. I am working on some really specific actions to make these things happen in my life." This has had a really positive impact on Ben's confidence. "We did an exercise looking back on life in twenty years time. Jesus was there, and he was impressed that I had lived my life well."
 A rich experience, demonstrating the power of coaching
Ben has some keen insights into why Tina's coaching approach works so well. "Tina's approach was really unique. She draws from her experience coaching in business and the corporate world and combines that with what she has learned at Bethel. As well as working with life dreams (desires), vision, and prophecy, she helps you draw on your life experience and your workplace experience to see the pattern of God's work in your life. Anyone would benefit from the class – from a student out of High School to a leader on the corporate level." Ben concludes: "What I really love about life coaching is the way it has impacted and transformed me. It has helped me discover new ways of relating to people and put the onus on myself to take responsibility for my life. It's good for anyone who wants to know what God wants them to do in life, helping you to explore what you could do, should do, and how God wants you to know his calling for your life."