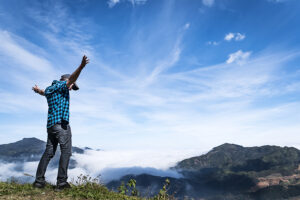 How can coaching attract heaven's resources?
Why do doors of opportunity open for people shortly after being coached in the 'Co-Creative' coaching approach?

Time and time again, just days or a few weeks after someone has been coached through the Destiny Coaching process, an astonishing breakthrough moment happens. This could be an invitation, a job opportunity, a vital contact, money or resources.
The testimonies are endless.
It's like the coaching makes a demand on heaven.
Why is this?
Here's why we think it happens:

1. Intentionality attracts a response from heaven
When we intentionally allow ourselves to be coached into change AND we allow God into the coaching process, this combination is a winner bringing breakthrough quickly.
Our awareness is increased of obstacles that are holding us back. These could be mindsets that need to be renewed.
Our creativity is awakened to create alternative futures and out of the box solutions.
This taps into our God-given DNA to create and to take authority over circumstances.
Strongholds that block clarity, progress, vision and more are moved out of the way so quickly that it's hard to believe those strongholds were in the way for so many YEARS!
The fact is heaven is waiting to deliver what we need. The co-creative coaching process helps us understand want we need and what we desire and to draw this down from heaven.
With our faith and our belief having been grown exponentially through the coaching, we are empowered to articulate a new, clear vision and to invite heaven to come and deliver.
2. God responds to what is created in a coaching session.

But why?

God's heart is to bless us to live abundantly not to struggle constantly
God is a loving father. He wants his children to have dreams. He desperately wants us to live our life confidently and boldly dreaming big dreams and expecting and believing that all things are possible with God.
A vital step in the The Destiny Coaching Co-Creative process, is to inspire you to dream a big dream. To build a vision for your life and work.
From coaching thousands of people at Destiny Coaching Ministries, we can witness that God is ready, willing and able to assist you to step into these dreams!
We have heard, so many testimonies at workshops, online programs and trainings of how God opens up doors and makes things possible for people very soon after they are coached into having the courage to create their vision and articulate their vision out loud.
Many times we may not be making progress in our life because we do not have a dream or a vision. We therefore do not have a plan.
There really are no limits as to what God can do through you….. if you dare to be intentional and co-create a vision for your life with Him.
Anyone can step into being transformed and living their purpose fully!
We'd love to invite you to journey with us to explore more of what God has for you.
Learn to coach the co-creative method